In Canada, most of us started closing our businesses a week ago. I cancelled everything except my online lessons as of March 16. Since then, I have been avoiding human contact, and washing or sanitizing my hands after I touch anything.

But some people have still not got the message, and their actions are killing people. They don't understand because the bodies haven't started to pile up yet.

Recent reports say that between 50% and 90% of cases in Canada are now from community transmission.
COVID-19 is the disease caused by a particular coronavirus.

The virus is called SARS-CoV-2.
(severe acute respiratory syndrome coronavirus 2)
This is not the flu.
It is far more infectious than the flu.
It is far more deadly than the flu.
For every 20-30 people who get Covid-19, one or two will likely die.
You don't have to have the disease to spread the virus.
You can catch it from touching a counter, a tap, a pen, a towel, money, a dog, a keypad, or anything that another person has touched, whether they have the disease or not.
(I can pass the potatoes to you without serving myself any. )

You won't know who gave it to you.
You won't know if you have it.
You won't know if you gave it to anyone else.
You won't know how many people you have helped the virus to kill.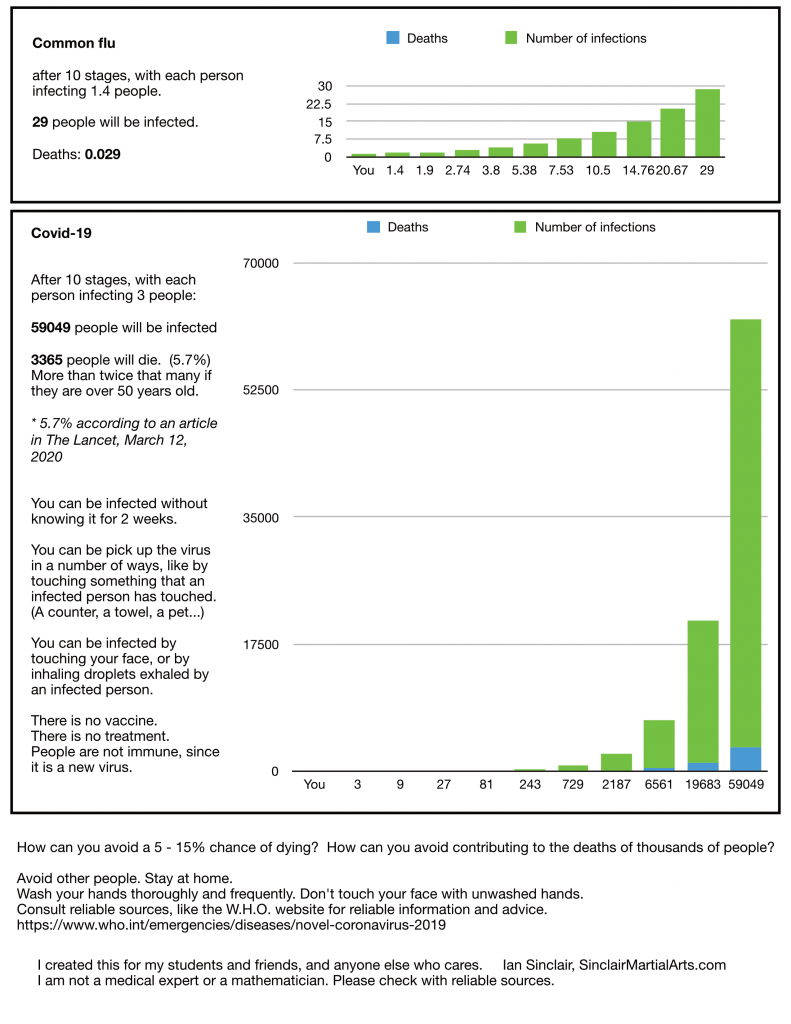 Click here for the latest reliable information from the World Health Organization.
https://www.who.int/emergencies/diseases/novel-coronavirus-2019
Remember: Every day that we delay taking action will increase the death rate, the financial costs, and the time required for society and the economy to recover.