4 new videos added June 29, 2020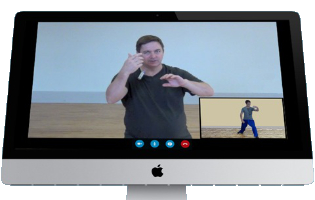 ---
Purpose of this website

I want to present my complete curriculum. I strive to teach tai chi in clear, plain language, eschewing obfuscation, and presenting science before metaphysics.

For four decades, I have been witness to the value of the internal arts, (tai chi, qigong, neigong, other healing exercises, meditation, and martial arts). My students and I have reaped the physical, mental, and social benefits from what my many generous teachers have tried to teach me over the years.

But I cannot teach what they taught. I can only teach what I have learned. I have put a lot of effort into research and development to fill the gaps created by my inadequacies as a student. As a result, I have spent years developing a unique approach and understanding. I am driven to share it while I still can.

I do not believe that my work is better than others, quite the contrary. But no school is right for every student, and no student is right for every school. The positive feedback from students and teachers around the world has affirmed that the material I offer has value. Their words have encouraged me to do what I can to promote and preserve the work.

My greatest obstacles are time, finances and mortality. I do not have the means to finance the work myself, and I will not try to sell, in advance, what I might not be able to complete. So, I have created this website to publish my curriculum and solicit contributions to the cause.

Being self employed, I can testify that my boss is a jerk, and can't find decent help. I wear all of the hats and am a fine example of the "Peter Principle" many times over.

What I can try to do, is commit as much as possible to video and written record while I can. The speed at which the material is produced will depend on financial support. So any contributions are appreciated.
Philosophy

A common misconception is that to practise a martial art is to practise violence. But this is like presuming that to practise medicine is to practise disease.

While beginners often feel that peace is to be achieved through the application of power. But such peace is illusory at best, and lasting power is never found though the barrel of a gun. Experienced martial artists come to realize that true power is achieved through the application of peace. This is not merely an ideal. It is a reality of strategy and tactics that has been proven repeatedly, on an individual personal scale and on a grand scale.

Each individual represents a fundamental unit of society. As such, each of us is the reflection and embodiment of all that is good and bad in the world. So, it seems reasonable to me that improvements that we wish to see in the world must be improvements that we make in ourselves. Every challenge that affects society is a challenges that affects the individual. Relationships between cultures, nations, and groups, are mirrored in the relationships between aspects of the individual body and mind.

What better tool than martial arts can there be for understanding the self and society. The goal of any martial art is, in essence, tranquility. This is sought through the mastery of oneself, and the perfection of relationships. Martial arts are the study and perfection of inner and inter-personal harmony. The part of martial arts training that deals with combat skills is actually a model for life skills expressed in extremis.

The cultivation of Peace and power begins with the mind and body, and is encouraged by the existence of opportunities and resources for self-cultivation.

I learned that it is the weak who are cruel, and that gentleness is to be expected only from the strong.

Leo Rosten, "Captain Newman M.D."
Method

I believe that a teacher who truly knows what they are talking about should be able to use words that their students understand. I try to avoid vague and confusing words and expressions. I prefer to avoid the use of the ancient Chinese terminology that has confounded teachers and students for generations. I want students to be able to verify my words with their own experience, and to reconcile them with modern scientific research.

There is much metaphysical terminology that is used in tai chi, neigong, and martial arts. Much of this may be useful in certain historical and cultural contexts. But I will encourage any students who are drawn to metaphysics, to first try to understand the physics of tai chi.

Ever since the early development of tai chi by devoted (and often illiterate) geniuses, there has been a great deal of research and discovery regarding the human mind and body. There is no reason why a studying Daoist sages and famous Chinese masters like Laozi, Zhuangzi, Mozi, Chen Wangting, et al should preclude us from studying the works of Archimedes, Newton, Maxwell, Hawking, and Witten, not to mention Vesalius, Gray, Fuller and Myers.

Tai chi is both a healing exercise and a martial art. It differs from many other exercises in its comprehensiveness. But tai chi is not, in its essence, so very different from other martial arts.

True, there are unique aspects of pedagogy that have lead to it being revered as a healing exercise and either respected or ridiculed as a combat method. But when one sees past the limits and obfuscation of style, form and tradition, one can see that tai chi is just a different path up the same mountain. I have spent more than four decades with martial arts of the world, and have befriended proponents of many traditions. It is my opinion that those who fail to find common ground, have not been looking for very long, or have a very precise interest in promoting a particular style.

Tai chi is my foundation. But I do not feel constrained by style, format, tradition, lineage, language, or philosophy. I teach what I learn, not what I have been taught. That is, ironically, what I have been taught to do by teachers who are wiser I.

I consider my resources and my teachers to include every experience that I have had in my life. I cannot represent any one teacher or their curriculum. I do not represent a particular style.

The only thing that I have in common with the great masters is that, in reading the classic tai chi treatises, my understanding of them has changed many times over my lifetime. That is one reason why I avoid quoting them whenever possible. Instead, I use my own words as I understand them, or use words that my students might understand. I prefer to avoid quoting what seems to many to be some sort of medieval Chinese beat poetry. I invite my students to read the classic texts, with the understanding that they are difficult enough for Chinese masters to make sense of, let alone westerners reading translations and transliterations.

I try to teach in my own words from my own experience. I feel an obligation to make my student's progress the main priority.
---
Videos
(pre-recorded and text)
Following are links to some of the current lessons, and some predictions of lessons that are planned for the near future. More will be added as time goes by.
There are currently dozens of videos available, of various lengths. I will update the links as soon as I can.
Introduction and Core Principles
Introduction and Core Principles

Centripetal engagement and the biomechanics of righteousness
6 degrees of freedom and the role of the legs
8 dimensions of the arms
A waist is a terrible thing to mind
Emotional anatomy
….
Basic Exercises

Postures
Arm movements
Waist movements
Hip movements
Balance
Footwork and leg movements
Integrated movement patterns
Pivot points
Ball training
Silk reeling
Core power
…
Tuishou

A comprehensive curriculum.
Neigong/Qigong

Level 1

Basic principles
Foundations and fundamentals
Medical and healing qigong

Level 2
Level 3
Level 4 – 12
I have yet to decide how much of levels 4-12 will be made available online. Much of it will not, as it would be irresponsible to do so.
Self Defence

conditioning
techniques
methods
tactics
strategy
principles
scenarios
…
---