A growing collection of free instructional videos.
Follow along with some basic workouts.
Check out reference videos covering basic movements and tai chi routines.
Follow the series introducing core principles and concepts.
Try the progressive lesson series called "Incomplete Tai Chi."
Watch demonstrations and recorded lessons with other students. (recorded before the pandemic)
Or book a private online lesson
Live Online Lessons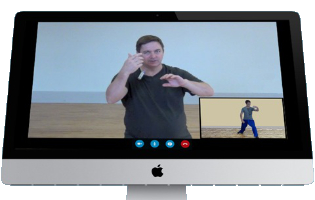 ---
Free Videos
The addition of new lessons is ongoing. Please note that 5 minutes of video can take between 3 hours and 3 days to produce, depending on the nature of the content and the amount of editing and rewriting required.
Currently, the following are available, more are in production.
---
An ongoing series, which will cover a number of core principles and esoteric concepts. This series of lessons will introduce the basic facts and theories behind tai chi. It should also give you some insight into my own personal pedagogy. I suggest watching these lessons in order, even if you are experienced in tai chi. There might be some nugget that you find unique and/or helpful.
---
Follow along with some basic tai chi workouts.
There will not be a great deal of actual detailed instruction.
Over time, I will be adding workouts of different durations and different levels of difficulty.
---
An ongoing series, step by step, in short segments, mostly of 5-10 minute lessons.
key concepts and basic exercises for exploring them
detailed instruction for a particular movements or sequences
approaching the the art with a linear and progressive curriculum
---
An ongoing series, step by step, in short segments, mostly of 5-10 minute lessons.
key concepts and basic exercises for exploring them
detailed instruction for a particular movements or sequences
approaching the the art with a linear and progressive curriculum
---
Forms / Routines:
Reference videos for those wishing to review forms they know or to explore different choreography of styles you know.
The main three routines are currently listed below. I plan for many more to be added in the future.
---
10-Form Tai chi
The 10-posture tai chi routine (also called the 8-form) was created in 1999 a simple teaching tool. It has become immensely popular throughout the world as a routine for beginners.
---
26-Section Routine (Yang Style Extraordinary Foundation Routine)
The 26-Section Extraordinary Foundation Routine is based on the traditional Yang style long form. I spent about 10 years developing this routine, and created it based on the eight different versions of Yang style that I learned during the preceding three decades.
---
20-Section "Chen style" (The Geneva Routine)
This routine is based on Chen style tai chi. I first taught it in Geneva and it has seen some revisions since then. It is not recommended for beginners. This video is intended as a reference for student who are already learning it.
---
---
Qigong and Neigong
Qigong and Neigong are used for improving the health of mind, body, and spirit. There are exercises designed for specific conditions, as well as generally therapeutic exercises. There are also exercises designed specifically for martial arts.
---
Tai chi Tuishou (Pushing Hands)
Tuishou is a specific type of training that is unique to tai chi, although most traditional martial arts do something that is at least vaguely similar. It is not a self defence method so much as a way of deconstructing the individual skills that make all martial art techniques work.
This course is currently in pre-production.
---
Tai chi for Fighting, for Self Defence, and for Martial Sports like MMA, Boxing, etc.
Tai chi can only be considered a complete martial art is the student is a complete martial artist. One cannot be constrained by the limits of style if one wishes to master the art. Tai chi students can learn a lot from other martial arts. Likewise, I have taught tai chi to martial artists of all styles, from all around the world. I will be presenting a series of videos that show tai chi concepts, and their application different contexts. This is not about the superiority of any particular style. It is a demonstration of the universality of profound principles.
We will discuss combat techniques, weapons, strategy, tactics, philosophy, conditioning, and more.
This course is currently in pre-production.
In the meantime, CLICK HERE to view videos of demonstrations and scenes from private lessons and group lessons.
---


Note: If you are a member, you can Login to keep track of your progress through these courses.
---

The following courses will be added as we go along. The speed at which I produce these is dependent on the resources available to me. I am very grateful to those of you who have been supporting this project, either with moral support or financial donations. Thank you, thank you, thank you, thank you, thank you, thank you…
---
Content currently in production or pre-production.
"Workouts" will be a set of exercise routines, employing sequences, routines, qigong/neigong, stretching and basic calisthenics. They will be of varying durations and levels of difficulty.
"Sequences" will present more advanced instruction for symmetrical movement patterns, incorporating groups of movements, arranged in a progressive manner, with increasing detail and more advanced concepts. Each sequence will be like the sections in the 26-section Yang style routine, and the 17-Section Chen style foundation routine, and a Sun style foundation routine.
These sequences are the elements of the traditional long forms. Practising these sequences is a traditional way of training that tends to be ignored by many schools.
"Routines" will present traditional and modern tai chi routines of various styles. It will give us an opportunity to see how tai chi is practised in different contexts, and to see the common principles by exploring those differences.
"Qigong and Neigong" will teach some of the internal training methods, for health, healing, and for martial arts, that I teach t my school.
"Tuishou" will teach the exercise known as "Pushing hands" as a meditation, as a partner exercise, as a sport, as a conditioning program, and as a method for understanding combat.
"Combat techniques" will look at the many types of martial techniques, including striking, kicking, throws, joint control, pressure point manipulation, grappling, etc. It will look at these from the tai chi perspective, as an application of tuishou skills, and also from the perspective of other martial arts.
"Weapons" will explore the elements of different weapons, including but not limited to the typical tai chi weapons such as sabre, sword, staff, spear, cane, etc.
"Strategy" A martial art is ultimately about conflict resolution. This course will look at centuries of philosophy, tactics, and strategy from the point of view of the single combatant, remembering that conflict has no beginning and no end. Every aspect of daily life will fit somewhere on the combat/conflict/harmony spectrum. It will explore military history from around the world, and see what lessons can be applied to personal martial technique, and all aspects of our individual lives.
Is there something else you would like to see offered?