"Axial Line" is a term I use a lot in my lessons. When I do, I am usually referring to the line, between a pivotal joint and another point, that serves as an axis of rotation. Usually, this is the line between one hip and the shoulder above it. This also corresponds roughly to the mid-axillary line. The frontal (coronal) plane of the body will rotate around that axial line like a door turning on its hinges.
The "Right Axial Line" is the line from the right hip to the right shoulder. This becomes an axis of rotation around which the pelvis and torso revolve. It allows the body to function as a class one or class two lever, giving a person a remarkable mechanical advantage.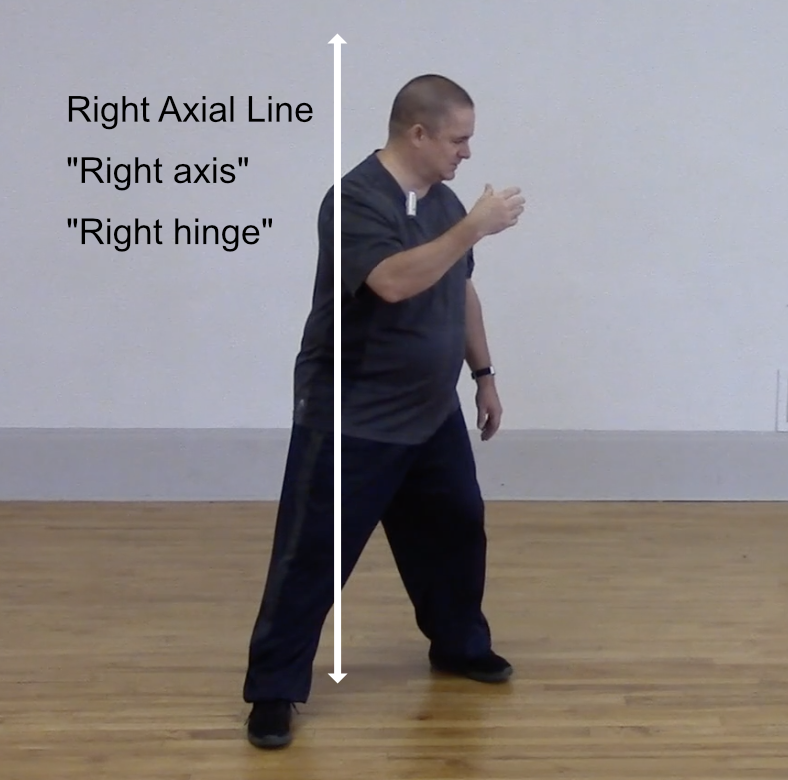 The "Left Axial Line" is the line from the left hip to the left shoulder.
In other anatomical terms, the word "Axial" by itself usually refers to the centre of something, like the "Axial skeleton" (head, spline, ribs, sternum, sacrum, coccyx…)

In my videos, I often refer to the "left axial line" and the "right axial line", which is a bit confusing to people who actually know what the words mean. Axial refers to the centre of something. So, when I say left axial line, I mean "the left becomes the centre of rotation", and when I say the "right axial line", I mean that the right becomes the centre of rotation.

It is possible sometimes to conflate my use of "axial line" with "axillary line" although they are not quite the same thing.
You may ask, "Which axillary line do you mean? Do you mean the posterior, anterior, or middle axillary line."
To which I say, "It depends on the situation."
Other meanings of "Axial Line" that have (mostly) nothing to do with tai chi:
Anatomy: I will seldom, if ever, use the term "axial line" in the same sense in which it is used in anatomy. In anatomy, an "axial line" has to do with afferent nerves in the skin. An axial line in this case is the border between adjacent dermatomes that don't have adjacent spinal levels. Dermatomes will not come up very often in my lessons.
Physics: In physics, an axial line is the line that joins two charges and passes through the centre of dipole.
Space: Axial lines are the longest visibility lines for representing individual linear spaces in urban environments. The least set of axial lines that cover the free space of an urban environment or the space between buildings constitute what is often called an axial map.
« Back to Glossary Index