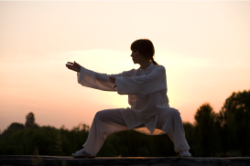 Tai chi is an art that can benefit everyone, and it is practised by millions around the world. But it has a depth and breadth that few can fathom. The programs offered here, including online lessons and personal training at the Orillia studio, are designed to allow beginners to gain the benefits as early as possible, while still giving you access to the endless depth of the complete art. With proper instruction and daily practice, you can notice improvements in days or weeks. But even after decades of practice, the art can continue to reveal benefits and insights that can be applied in all aspects of your life.
There have been repeated efforts over the past several decades to make tai chi more accessible by creating versions of tai chi which are simplified, standardized, and watered-down. Then result is a popular view of tai chi that is simplistic, ordinary, and diluted. That is why this program is designed to not only preserve and promote the mastery of the complete art, but to encourage the students to take it to new depths.
Throughout the history of tai chi, there has often been a cult of secrecy, which persists to this day, around the teaching of the art. There have been many excuses for this. But this is a different time, and we have a duty to ensure that knowledge is offered freely, presented honestly, and given proper context.
This pedagogy is intended to make as much depth and breadth available to those special people who are willing to do the work, and who are willing to transform themselves for the better.
The deeper you go, the deeper it gets. It doesn't matter why you initially seek out tai chi. Perhaps you come to tai chi seeking its famous mental and physical health benefits. Maybe you seeks to improve your performance in a sport or in an art form like acting, music, or dance. You might be one of the many who come looking to deepen your understanding of martial arts. Regardless of your initial reasons, tai chi continues to reveal new benefits and applications in your daily life.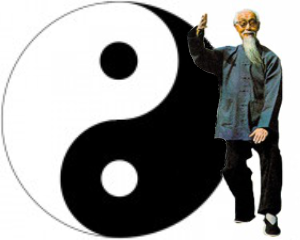 Tai chi, in its current forms, is centuries old. Some of the terminology that is used to describe it is much older. In fact, the basis of tai chi theory is thousands of years old. So, it is not surprising that generations of masters have left us with a lot of books and theory that difficult for modern people to understand. The origins of tai chi predate modern theories of anatomy, physiology, medicine and physics. While this may have been the best way for previous generations to learn, the old explanations are quite foreign to us. We can try to translate and interpret the old lessons. But unless we can describe tai chi principles in ways that modern students can understand, the art itself will be lost. Merely memorizing the old lessons is not enough. We must adapt the lessons to make them relevant and intelligible to each new generation.
It is the goal of this program to avoid, wherever possible, reliance on outdated and archaic language, and to give you the tools to allow the profound concepts to make sense to you. It is not enough to memorize ancient proverbs. I want you to be able to feel and understand the science tai chi, and to experience its power for yourself.