The goal of this school is to:
offer the art with the perspective of modern science and anatomy,
teach using terms that students can understand, and which are relevant to modern students, and to try to avoid the confusion caused by archaic language.
serve as a guide for students to develop their own art, rather than simply mimicking an ancient style.
explore the full scope of martial arts, so that the lessons learned here can be applied in all aspects of life.
research and develop the health-giving aspects of martial arts, and tai chi in particular.
advance the pedagogy and accessibility of the art, for the betterment of all.
Martial arts are to violence and chaos what the study of medicine is to disease and suffering. They have the ability to bring tranquility and empowerment to individuals, and further the progress and harmony of society.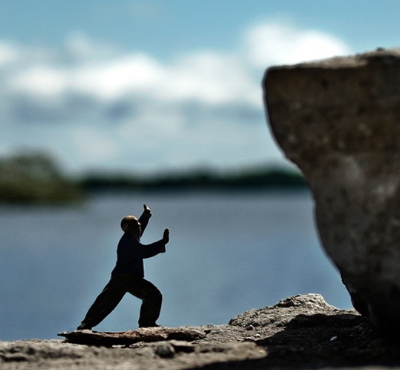 It is understandable that some people will view martial arts as the practice of violence. But the ultimate goal of any martial art is actually tranquility.
The world is an inherently violent place, and all that is necessary for violence to increase is for people to ignore the threat. A martial artist learns to see the danger long before it becomes a problem, and to understand the true nature and origin of chaos.
There are many forces at work in the world, which are constantly trying to harm us. External and internal forces create havoc with our mental and physical health, as well as with our social harmony. A martial art is the means of learning to study and understand those forces so that we can adapt, mitigate, and even conquer violence itself.
A great deal of what threatens us actually comes from within. So, we must improve our mental and physical health in order to be able to defend it. We cannot treat the enemy as something external to ourselves. To do so would be like a country that tries to defend its way of life by spending all of its resources on its military, and leaving nothing to actually support that way of life. Military spending can give the illusion of supporting the economy. But if it drains support for education, social programs, health care, or the economy, the the military itself becomes self-defeating. In the same way, a person who focuses entirely on winning at conflict will become locked into a self-defeating spiral that only increases the strength and number of his/her/their enemies.
I have spent more than 40 years with martial arts as the primary focus of my life. I have studied a number of different arts. But my emphasis has been tai chi. Ironically, tai chi is an art which has a history of being its own worst enemy. The meaning of the art is obscured by mysticism. The promotion of tai chi has been bogged down by Confucian politics. The pedagogy has been hamstrung by archaic science. The language of tai chi is incomprehensible, made up of twisted maxims, obscure aphorisms, often drawing on ancient writings that read like some sort of medieval Chinese beat poetry.

Young students hang on the classic writings. But the older masters have enough experience with the classics to see how, like most scripture, the meanings change over the years, sometimes radically altering with each new reading.
Tai chi and other internal martial arts are notorious for their use of words like "qi" which have either no meaning to modern audience, or which have too many possible meanings. The challenge for us is to replace words with clearer terminology.