This is a new website, and I am still learning how to do everything myself. This FAQ page is one of the things on the list. Members can ask questions by clicking here.
Thank you for your patience as I get this site going. – Ian
The Meaning of "Tai Chi" – What's in a name?
Most scholarly publication on the subject use the "pinyin" romanization of the word (taijiquan). But the term "tai chi chuan" is still in popular use. Most anglophones do not know the correct pronunciation of the pinyin, and do not know that taijiquan is tai chi.
The first part of the word (taiji or tai chi), refers to the philosophical concept of yin and yang. The second part ("quan" or "chuan") literally means "fist" or "martial art" but is also used to refer to exercise routines or systems.
There are several different ways of writing the same word. It is often abbreviated as "tai chi" or "taiji."
The pronunciation is the same – "Tai jee chwan"
tai chi – common abbreviation
tai chi chuan – (Yale romanization)
t'ai4 chi2 ch'üan2 – Wade-Giles
t'ai chi ch'üan – W-G (no tones)
tàijíquán – pinyin:
taijiquan – pinyin (no tones)
taiji – pinyin abbreviation
太極拳 – traditional full form Chinese
太极拳 – modern simplified Chinese: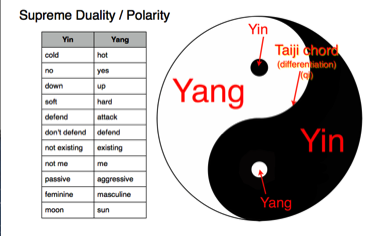 The concept of yin and yang is expressed in the tai chi symbol (Taiji tu) above.
"Tai chi chuan" may be defined as the exercise or martial art based on the theory of yin and yang.
Some translations of tai chi chuan (taijiquan):
• "fist of tai chi"
• "fist of ultimate polarity"
• "yin-yang boxing"
• "supreme duality martial art"
• "supreme ultimate fist"
That is a well-phrased question. There are many benefits of learning a martial art that go far beyond dealing with simple self defence situations.

But sure, any martial art is capable of developing skills that can be useful for self defence. How comprehensively they do so depends less on the style and more on the individual teacher… and on the mind of the student. Tai chi schools are no different.
Some schools are very good at teach awareness and psychological skills that can reduce the chances of being attacked.
Some teach combat techniques, but are not very adaptive to changing scenarios.
Some focus on adaptation but do not offer much variety in the way of technique.
Some emphasize strategy and tactics but don't develop physical skills.
Some develop skills but don't offer much in the way of conditioning.
Some do lots of conditioning and technique, but do not teach awareness or practise contextual scenarios.
Where does tai chi fit in all of this? Well, that depends again on the teacher and the student. It does not, in my opinion, depend much on the style. I have seen the best and worst of dozens of tai chi styles (all the major styles and many derivatives). Great "fighters" have come from all styles.
There are many components to tai chi training, including conditioning, basic movement, power training, forms, various 2-person exercises, martial techniques (strikes, throws, joint control, pressure point manipulation….), neigong/qigong, weapon training, therapeutic exercises, philosophy, strategy, tactics, history, and much more. But most schools only teach a small fraction of the potential curriculum. And those that do teach a larger curriculum often fail due diligence in their own research.

I have worked with students from many different martial arts, and I have seen what can happen in different circumstances. I have taught long enough that my students have included military personnel with experience in armed hand-to-hand combat in various conflicts over the last 80 years. My civilian students have faced various types of violence from typical North American street thugs, to car-jackers, and AK-47 wielding bandidos. I have also had some personal experience with "real world" self defence, enough I know the difference between self defence and martial sport.
I feel it necessary to distinguish between tai chi as an art, and tai chi as a style. As an art, Tai chi can be profoundly useful for self defence. As a historical style, it has its limitations.
A historical style is the personal expression of someone else's martial art. It is like trying to imitate a famous singer. It will not be as effective as developing your own style. You need to adapt it to your own body, your own mind, and your own voice. When you imitate a teacher, you are learning how they have adapted to their own strengths and weaknesses. You may even start to mirror their weaknesses. In other words, attachment to another person's style is like learning their pathology along with their cure. You need to examine your own pathology and develop a cure that is right for you.
The great masters never stop improving and seldom get to teach half of what they know before they die. If you are one of the extraordinary students who learn that 50%, then you will still need to develop your own art, just as your teachers did. But most students only learn a small fraction of their teacher's art, and those students will teach only a fraction of theirs. This leads to an inevitable dilution of knowledge.

In addition to that, time and context are subject to change. We face different kinds of threats than our ancestors did. So we need to adapt the art to serve our time and place. The weapons and types of attackers that we might face may be quite different from what they faced.
We also have access to knowledge that our ancestors lacked. So, it makes sense to reinterpret their experience from our modern perspective. We might never be able to understand what they were talking about. So we need to find our own words for our own experiences. As we improve, we might get a better sense of what they were teaching. But even if we don't, our own search may bear fruit. My students might have difficulty understanding "jing" or "qi" or "the six harmonies" or "5 elements in the feet" or "eight trigrams in the hands". Likewise, as our ancestors might not have understood "proprioception", "axial rotation", "6 degrees of freedom" or the relationship between momentum and kinetic energy.
I find that tai chi has been the greatest vehicle for my development as a martial artist. But I also study other traditional and modern martial arts from around the world. That is what my tai chi predecessors did. They did not limit themselves to one teacher or one style. Why should we? The greatest tool in my arsenal, by far, has been the spirit of investigation and critical thinking that has been passed on by my teachers.
Most people who teach tai chi do not have any interest in the martial aspect. Even among those who do, most are unwilling or unable to test their skills or adapt their pedagogy. If you want tai chi to help you in a fight, you must use it as a tool for liberation. Don't let it be an albatross around your neck.
Do I think tai chi can win a fight? No.
Do I think a person can use tai chi to win a fight? Yes.
Do I think tai chi is a practical martial art for purposes of self defence? Absolutely, especially if you study the difference.
First of all: I am NOT a doctor or a medical expert. This should not be construed as medical advice. Consult your personal physician.
But this is what I know, as of today.
There is no known cure for covid-19.
Healthy people seem to be more likely to survive, and it is generally accepted that exercise is good for health. (So, is rest and drinking enough water. )
But I know of no scientific research into the effect of tai chi on any of the coronavirus.
As for how to avoid avoid catching it. These days, I think we should all just act as if we have it. That means doing everything possible to avoid infecting others.
It is possible to have the virus and show no symptoms for up to 2 weeks or more.
The only way that I know to avoid catching the virus it to do what health experts tell us to do.
Wash your hands thoroughly and regularly for at least 20 seconds, with soap and water or an alcohol-based hand sanitizer. Do so before and after touching your face, and after touching anything that might have been touched by another person.

You might think that you know how to wash your hands. But watch some instructional videos to be sure. Most of us do not do it correctly.

Cover your nose and mouth with a disposable tissue or flexed elbow when you cough or sneeze.
Avoid close contact with other people.
Stay 2 metres or 6 feet away from other people, especially if they are unwell, or if they might be. (Considering how contagious this virus is, assume that anyone could be infected.)
Stay home.
If you don't know what to do with yourself, consider learning a new skill, or a language.
Self-isolate from others in the household if you feel unwell.
I am NOT a doctor or a medical expert.
This should not be construed as medical advice.
Consult your personal physician.
Also, get the latest scientific information from actual scientists.
The real experts will admit when they are wrong. So, expect the information to change as more research becomes available.